Greenville Tech Foundation Receives a $75,000 grant from the Truist Foundation for Greenville Technical College's African American Male Scholars Initiative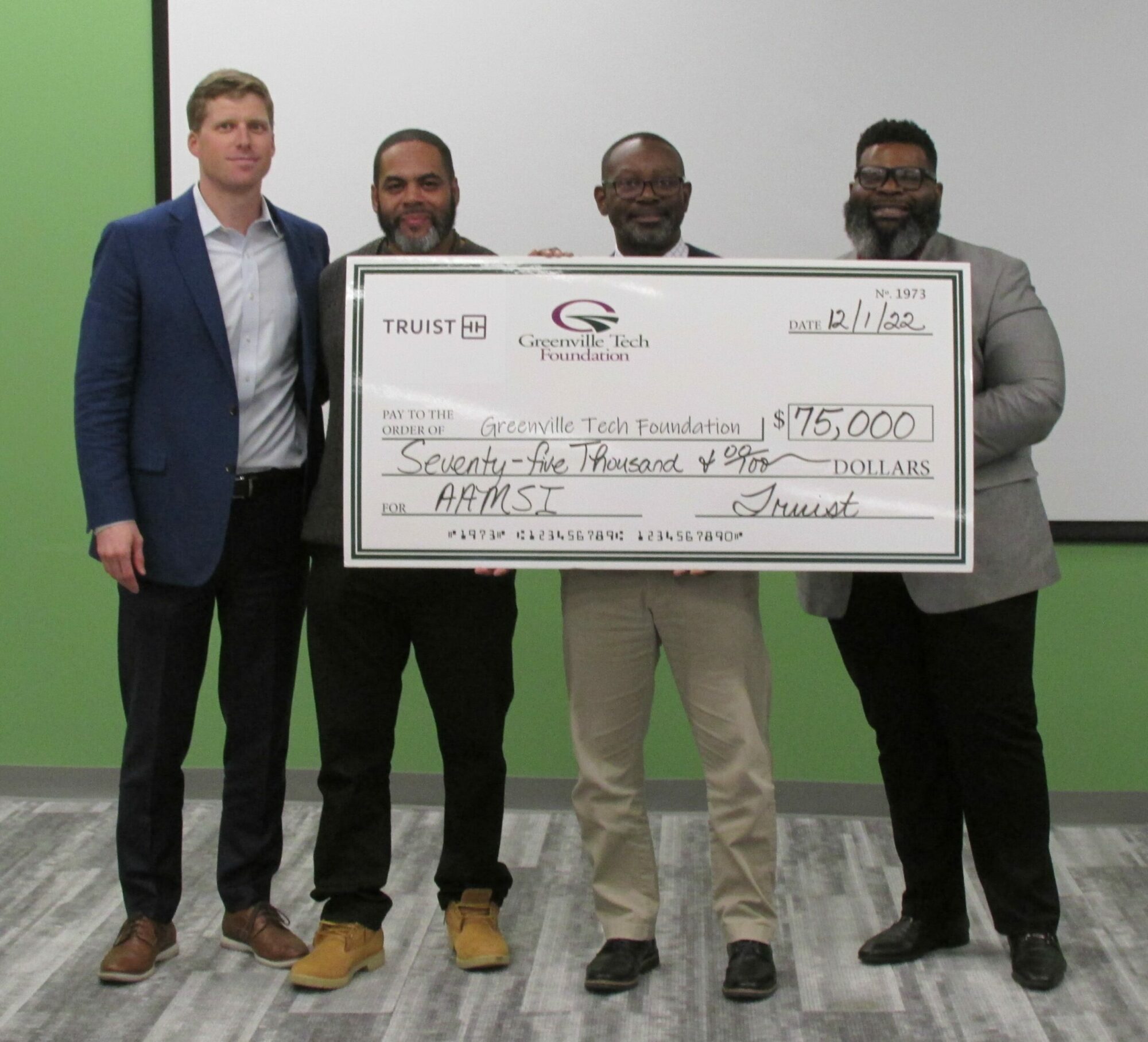 The Truist Foundation is providing a grant in the amount of $75,000 to the Greenville Tech Foundation for the expansion of the African American Male Scholars Initiative (AAMSI) program. Established in 2019, AAMSI aims to address the challenges faced by African American males enrolled at Greenville Technical College, ultimately helping them to achieve academic success.
"This grant from the Truist Foundation will play a crucial role in expanding the AAMSI program," said Ann Wright, Vice President for Advancement at Greenville Tech Foundation. "These dollars will allow more African American male students to access these innovative resources and additional supports, meaning they will not only thrive academically, but also have access to personal and professional growth opportunities."
The primary goals of the AAMSI program are to increase retention and graduation rates among African American male students, promote social and economic mobility, and nurture their leadership potential. Through various support services, mentorship programs, and academic resources, the program seeks to close the racial and gender opportunity gaps that exist in higher education.
Since its inception, the AAMSI program has accomplished remarkable results. To date, 62 program participants have graduated from Greenville Technical College, demonstrating the positive impact of this initiative. The retention rate of AAMSI scholars stands at an impressive 60.4%, surpassing the retention rate of white males and non-AAMSI males at the college.
Furthermore, the program has successfully engaged first-generation college students, with 75% of AAMSI scholars being the first in their families to pursue higher education. By supporting and empowering these students, AAMSI is not only transforming individual lives but also breaking cycles of intergenerational educational disadvantage.
The partnership with Truist Foundation is a testament to the commitment of both organizations to uplift and empower underrepresented communities through education.
"We are excited to partner with Greenville Tech Foundation to grow the AAMSI program and further impact the lives of African American males in our Community!" said Wes Lehrer, Upstate Market President at Truist.
About Greenville Tech Foundation
Founded in 1973, the Foundation began as a response to a need of providing a quality college education at an affordable cost to reduce financial strain for those seeking higher education. It provides financial support to both the college and its students beyond state and local funding sources. These funds are accessed through charitable contributions from businesses, industries, foundations, organizations, and individuals in our community. Greenville Tech Foundation believes in the power of community and equity to give everyone the opportunity to pursue their dreams in higher education at an affordable price. Learn more at greenvilletechfoundation.org.
About Truist Foundation
Truist Foundation is committed to Truist Financial Corporation's (NYSE: TFC) purpose to inspire and build better lives and communities. Established in 2020, the foundation makes strategic investments in nonprofit organizations to help ensure the communities it serves have more opportunities for a better quality of life. Truist Foundation's grants and activities focus on building career pathways to economic mobility and strengthening small businesses. Learn more at Truist.com/Foundation.