Greenville Tech Foundation receives $35,000 grant from Power:Ed for African American Male Scholars Initiative (AAMSI) program expansion
June 14, 2023 (GREENVILLE, SC) — The Greenville Tech Foundation has been awarded a $35,000 grant to support the AAMSI expansion to serve more men, help with a portion of staff salaries and program expenses, from Power:Ed, a philanthropy of SC Student Loan Corporation.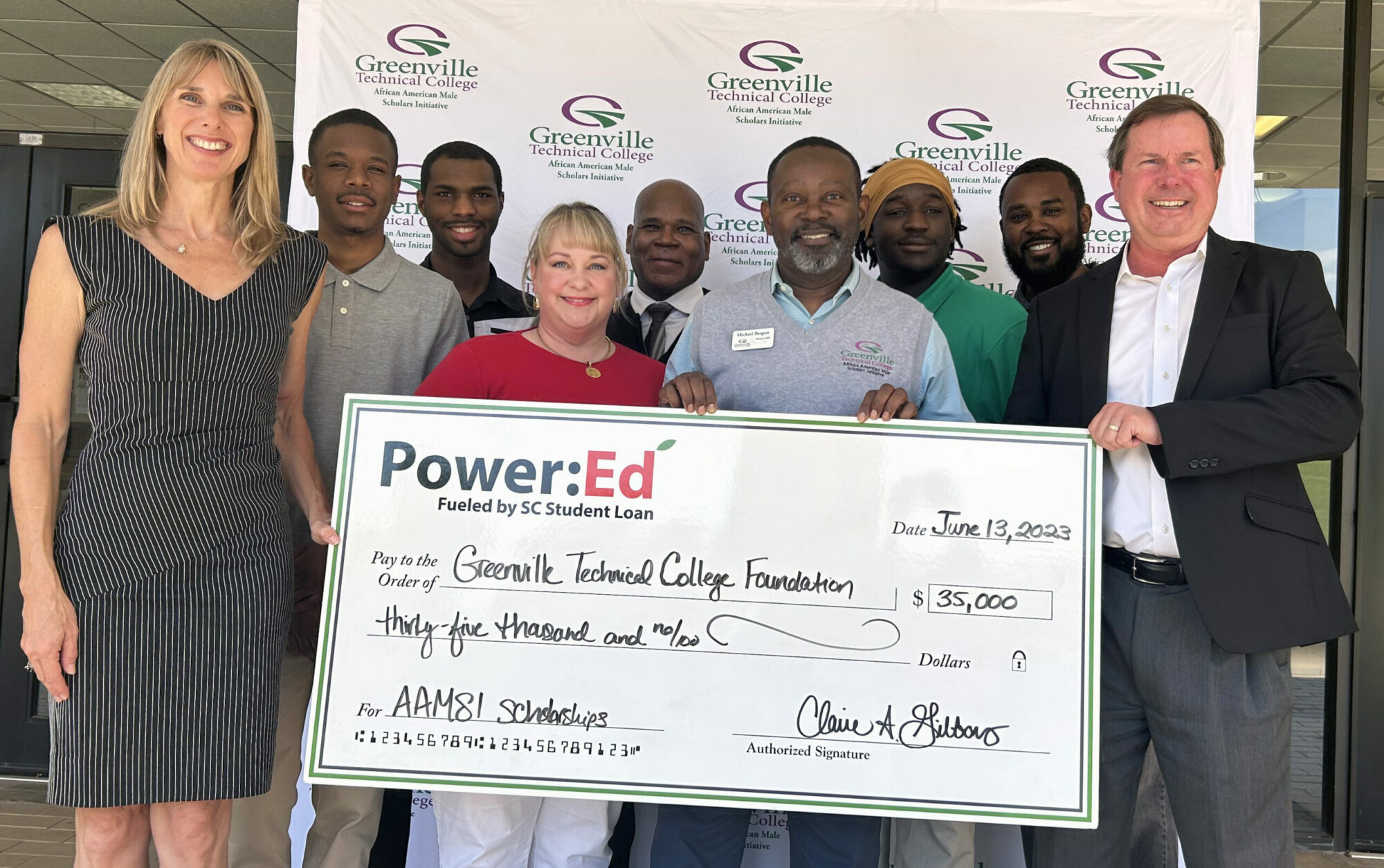 Greenville Technical College's African American Male Scholars Initiative (AAMSI) is an innovative program designed to address racial and gender achievement gaps by providing intensive case management and personalized support services that help participants overcome barriers, develop academic and career pathways, and graduate on time.
"Since its inception in 2019, the AAMSI program has welcomed 169 scholars. To date, 62 of those scholars have graduated with at least one certificate or associate degree and program participants are now retained from year-to-year at a rate that exceeds other male students at the college." said Ann Wright, Greenville Tech Foundation VP for Advancement. "This investment by Power:Ed will not only help support the continued growth of this program, but will also leave a lasting impact in the lives of AAMSI scholars, their families, and the region as a whole."
AAMSI participants persist from Fall to Spring terms in greater number than the college population as a whole, and notable academic accomplishments include Dean's List and President's List designations — which are becoming achievable goals for participants — with 14 members receiving these accolades this spring.
"Power:Ed is proud to support Greenville Tech and the vital work of AAMSI in educating and preparing the next generation of African American leaders in South Carolina. We look forward to the great things these men will achieve," said Power:Ed Director Claire Gibbons.
In FY2022-23, Power:Ed has awarded 23 grants totaling $900,000 to South Carolina education and career readiness organizations, including Greenville Tech Foundation. Grants are administered quarterly, and the next grant funding deadline is July 1, 2023.
To learn more about the AAMSI program and its impact, please visit greenvilletechfoundation.org/aamsi.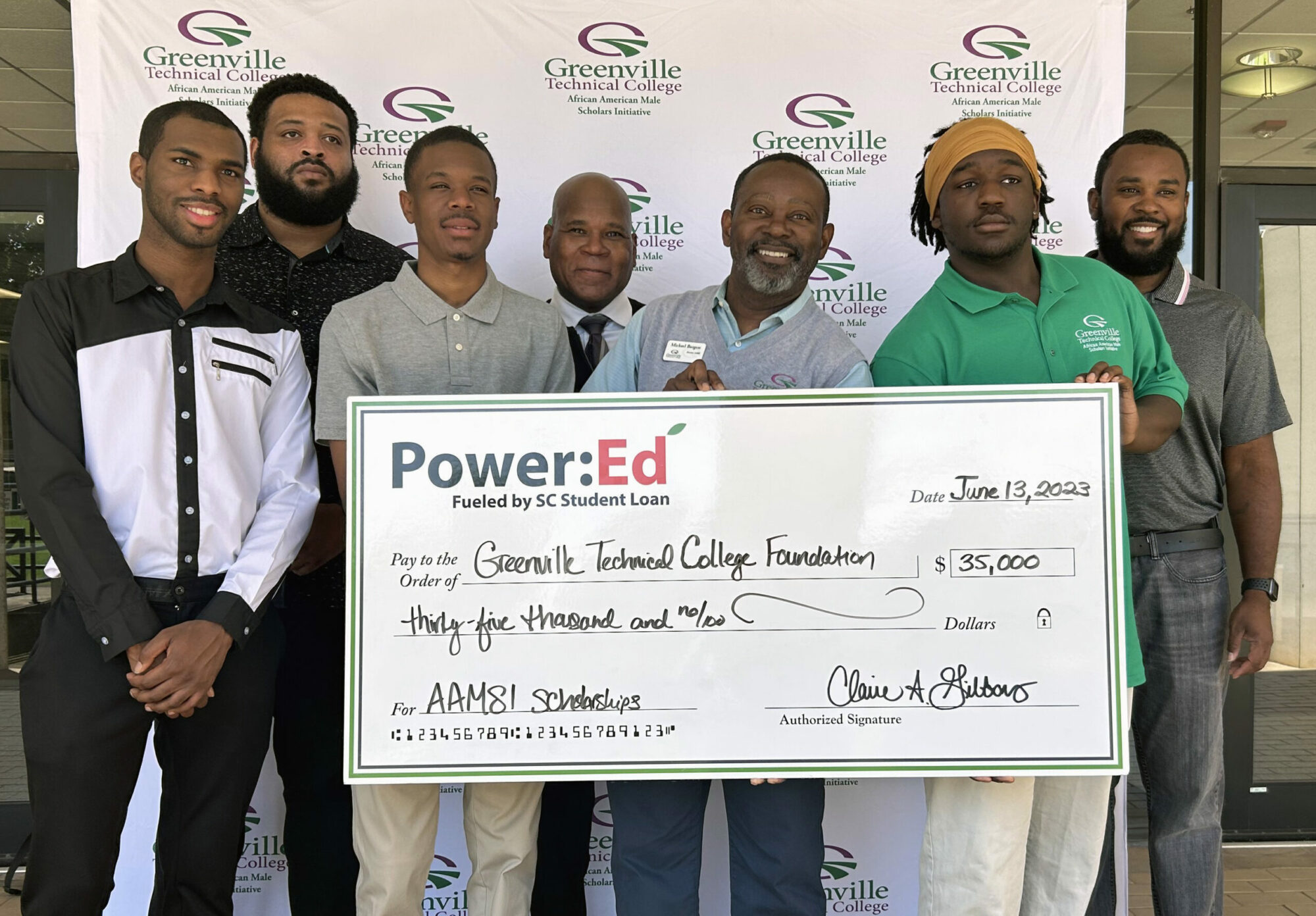 About Greenville Tech Foundation
Founded in 1973, the Foundation began as a response to a need of providing a quality college education at an affordable cost to reduce financial strain for those seeking higher education. It provides financial support to both the college and its students beyond state and local funding sources. These funds are accessed through charitable contributions from businesses, industries, foundations, organizations, and individuals in our community. Greenville Tech Foundation believes in the power of community and equity to give everyone the opportunity to pursue their dreams in higher education at an affordable price. Learn more at greenvilletechfoundation.org.
About Power:Ed
Founded in 2019, Power:Ed, a philanthropy of SC Student Loan is dedicated to creating opportunities for South Carolina's youth and adults by supporting low-income, minority, and first-generation students; improving access to college and degree completion; and creating pathways to quality workforce opportunities. Organizations serving middle school through post-college talent who are interested in applying for a grant or partnering with Power:Ed, should visit power-ed.org.